About a week and a half ago I received an "emergency" call from my Sister who wanted to commission me to make a baby blanket for her friends' new baby boy who had been born the previous Tuesday. My Sister had planned to make a blanket herself, but ended up having too many other things going on and couldn't do it. I was actually in the midst of a running a fundraising event at the time, but since I didn't have any crochet projects going, I agreed to make it. And I managed to get the blanket finished within about a week.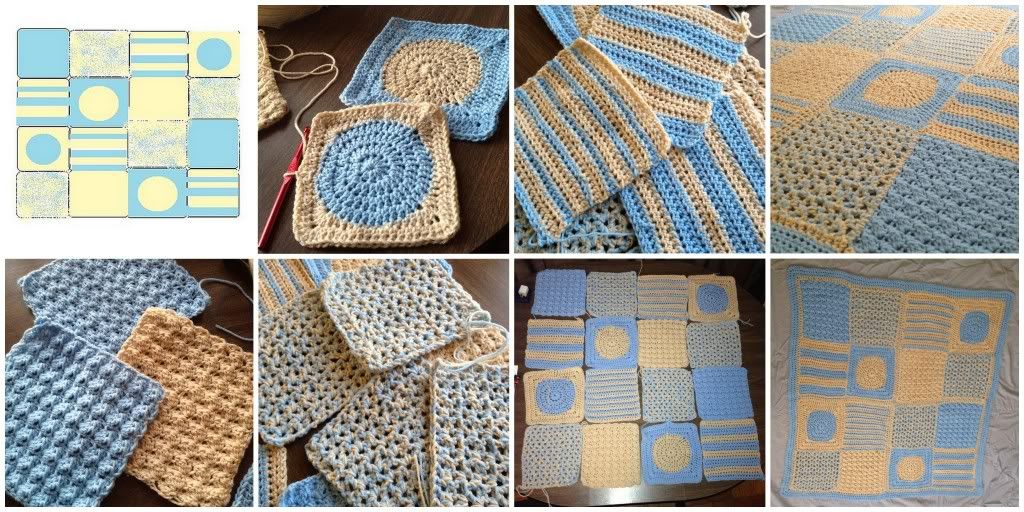 My Sister picked out the yarn (Lion Brand Pound of Love in Beige and Pastel Blue), but she didn't have any idea what pattern she wanted the baby blanket to have (solid, squares, stripes, circles, or a unique texture). So for fun, I decided to try to do a little bit of everything.
For the 4 solid squares (2 blue and 2 beige) that have sort of a rippled texture, I worked the squares in this 9 Patch Blanket pattern.
For the 4 circle squares (2 blue circles surrounded in beige and 2 beige circles surrounded by blue) I used the medium-sized Square 2 in this Circles to Squares blanket pattern - and I only worked through round 7 (96 st), so they would be the correct size for my project.
For the 4 combo squares I used a double-strand of blue and beige in a standard V-stitch pattern.
For the 4 striped squares I just worked solid half-double crochet stitching, alternating the colors to achieve different sized stripes.
When all the squares were complete, I arranged them according to the diagram I had roughly painted. I stitched the 4 quarters of the blanket together with beige yarn and put 1 round of beige hdc around each. Then, I sewed the 4 quarters of the blanket together with blue yarn. And lastly I put a finishing edge on the blanket with 3 rounds of hdc in blue. I used a size N (9.0mm) hook, so the blanket's stitching is more loose and "airy" since Spring is upon us. The blanket ended up measuring approximately 36 by 36 inches.