Next up in my holiday gift crochet project queue was a camouflage blanket for my outdoorsy Dad: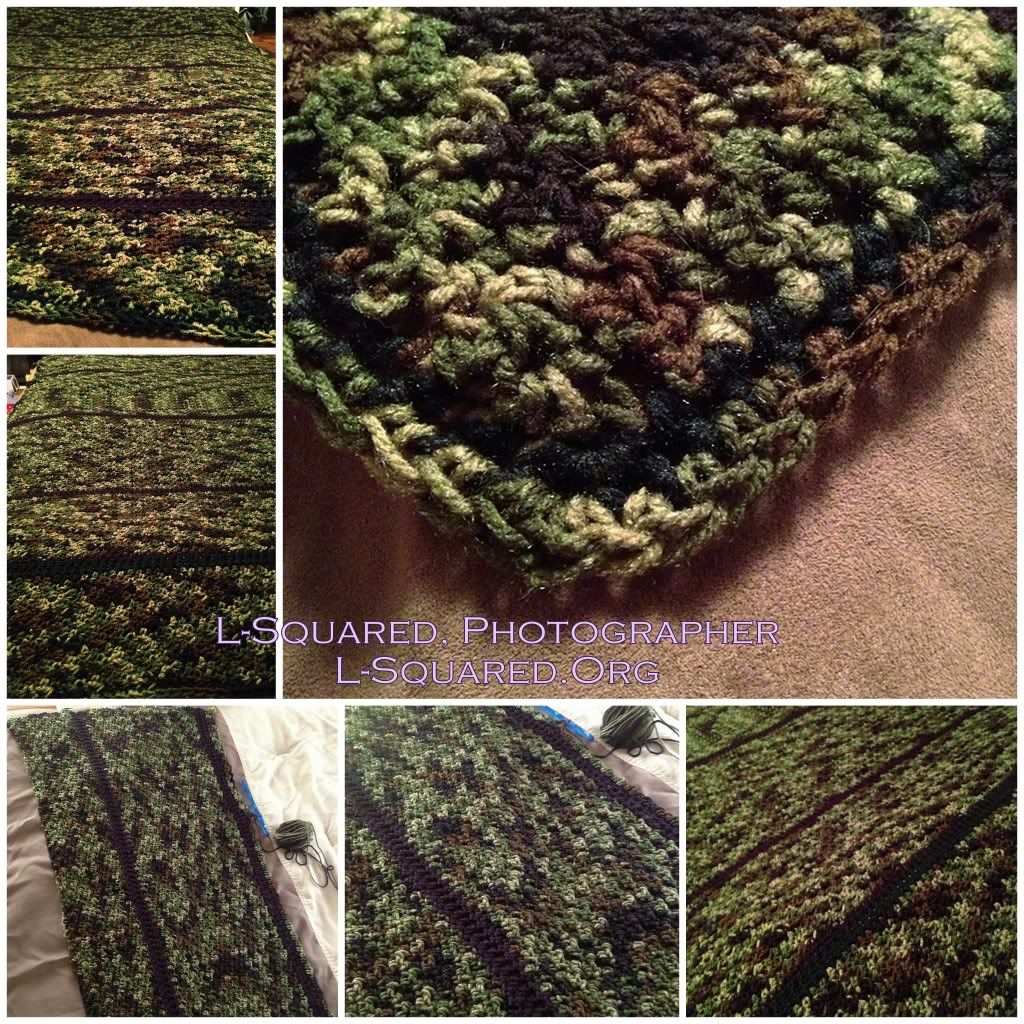 I used this
Goddess Afghan pattern (free Ravelry download)
, a size L hook, Red Heart Super Saver yarn in Camouflage and some unlabeled black acrylic worsted-weight yarn. This pattern is another easy one to work up, and is another good tactile pattern for blind crocheters. The stitch pattern is simple to remember, but the every-other-stitch change helped me to not get quite so bored with it.
I must admit I felt a little bad at first, making a blanket called "Goddess" in camouflage yarn as a holiday gift for a guy. Haha! But I really like the look of the pattern, so although I'm personally not a fan of the muddy brown, tan, green and black camo colorway, I must admit it does look kind of neat with the texture this alternating stitch pattern creates.

I originally worked the pattern as written with a size K hook, but I worked about 20 rows of the pattern and realized it was yielding a disproportionately long blanket which - with the amount of yarn yardage stated on the pattern page - I wasn't going to achieve even half of what would be an appropriate corresponding width for the blanket. I had also planned to work the same-stitch rows (13-15) in a dark sage green yarn, but after trying that I noticed the greens in the two yarns weren't alike enough to look good together.

So I frogged the entire thing and started over with 128 st rows (instead of 201) and a slightly larger hook (L in stead of the K) - with these changes I got about 30 rows per skein instead of only about 18. I still ended up having to purchase more camo colored yarn though, because I needed to work more rows than the pattern included - 159 instead of 119 - to help achieve a more evenly-proportioned blanket.

Because of the texture the alternating stitches created, I found it a bit more challenging to be able to count the number of rows worked (either by sight or touch), so I had to be diligent about inserting a stitch marker in the end of each row to help me keep track. I worked alternating-stitch sections of 12, 24, 36, 36, 24, and 12 rows each to yield a roughly 5 by 6 foot blanket. I also switched to black yarn for the same-stitch rows in between the camo sections, which I think looks much better than the green I originally used.

For the blanket border, I worked the first round in black, and the second round in camo.

This project took me about a month to make, but I took several small breaks from it to start or work on other projects that were a bit more fun for me to crochet - I think I have a tougher time making projects when I don't like the yarn I'm using. However, I eventually finished it, and I am very happy with how this blanket turned out.