The last blanket I crocheted for a human family member's holiday gift was an owl granny square blanket for my Mom.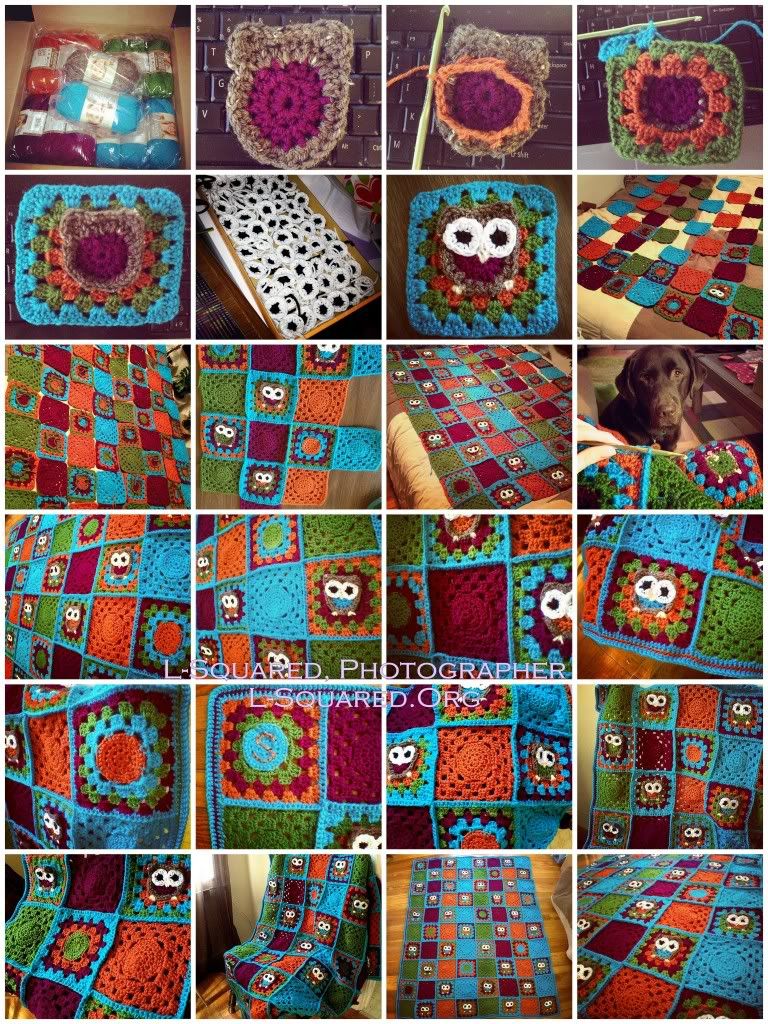 My Mom loves owls, so when I stumbled upon this cute
Owl Granny Square pattern
, I knew I had to incorporate it into a blanket for her. I used a size I hook and Vanna's Choice yarn in Aqua, Kelly Green, Terracotta, and Wild Berry, for the squares, with Barley for the owl bodies and some leftover scraps of white, black and pale gold worsted weight yarn for the details on each owl.
I noticed a few slight errors in this pattern: incorrect color reference - pink instead of blue - in comparison to the accompanying photo/diagram; saying skip every other stitch when it should be every other PAIR of stitches (as is indicated in the accompanying pic/diagram), in order to get the correct number of chain 3 spaces (8) when attaching the yarn for the rest of the square to the back of the owl; and most importantly (at least for us left-handed crocheters), "start to the right of the ear" should be LEFT of the ear when working with the wrong side facing up where you're attaching the chains, in order to get the owl to not be crooked on the square. With a little trial and error I worked through these small issues though.
I did struggle a fair amount while trying to attach the yarn for the rest of the square to the back of the owl. The pattern made this look easy, but in practice, for me, it was a lot more challenging than expected.
I also ended up chaining 2 (instead of just 1) at the corners of each round of the squares to give them a little better shape.
This blanket is made up of 80 squares - 31 owl squares mixed with 49 non-owl squares (some 1 solid color, some all colors). For the non-owl squares I essentially worked the same pattern as for the owl squares, just leaving out the row that makes the owl's "ears".
Warning: there are 20 or so yarn ends to deal with for each owl square! Because of all the ends and different colors used for the square itself and the detailing, the backs of my owls squares are messier than I would have liked them to be, but there wasn't much I could do about that.
I did the owl eyes differently than the pattern, to help cut down on the number of things that need to be sewn onto each square. Instead of using white disks and black buttons, for my owls' eyes I did the following: with black - magic ring, 4 sc in ring, slst to beg. Attach white yarn, 2 sc in each st, slst to beg. fo. Similar look; half as much sewing required. I probably should have used a smaller hook for the eyes though, because they turned out kind of big in comparison to my owl bodies.
I have to give huge thanks to my Sister for sewing on a great majority of the many owl eyes, beaks and feet. Unfortunately, my very sore, blurry eyes were not up to this task when it finally came time for this detail work to be added.
For construction I decided to just crochet the squares together with sc in aqua. Then I added a finishing edge with one round of hdc in aqua; 1 round of sc with the small bits of berry, terra and kelly that I had left; and then one last round of hdc in aqua. The finished afghan measures approximately 50 inches by 62 inches.
This project took just over two months to complete and was a huge amount of work, but over all I'm happy with how the blanket turned out. And, most importantly, my Mom loves it! :-)