In my neck of the woods, early autumn is that time of year when I can never manage to dress correctly for the weather. It's cool in the morning, hot in the afternoon, and then gets chilly again in the evening. So if I wear sleeves for the cold, I'm roasting all afternoon, but if I wear no sleeves for the warm part of the day, my arms are cold until it gets warm outside. So, a more fun, fashionable solution than a full-jacket or cardigan sweater is my latest crochet project, which I finished yesterday: an autumn shrug.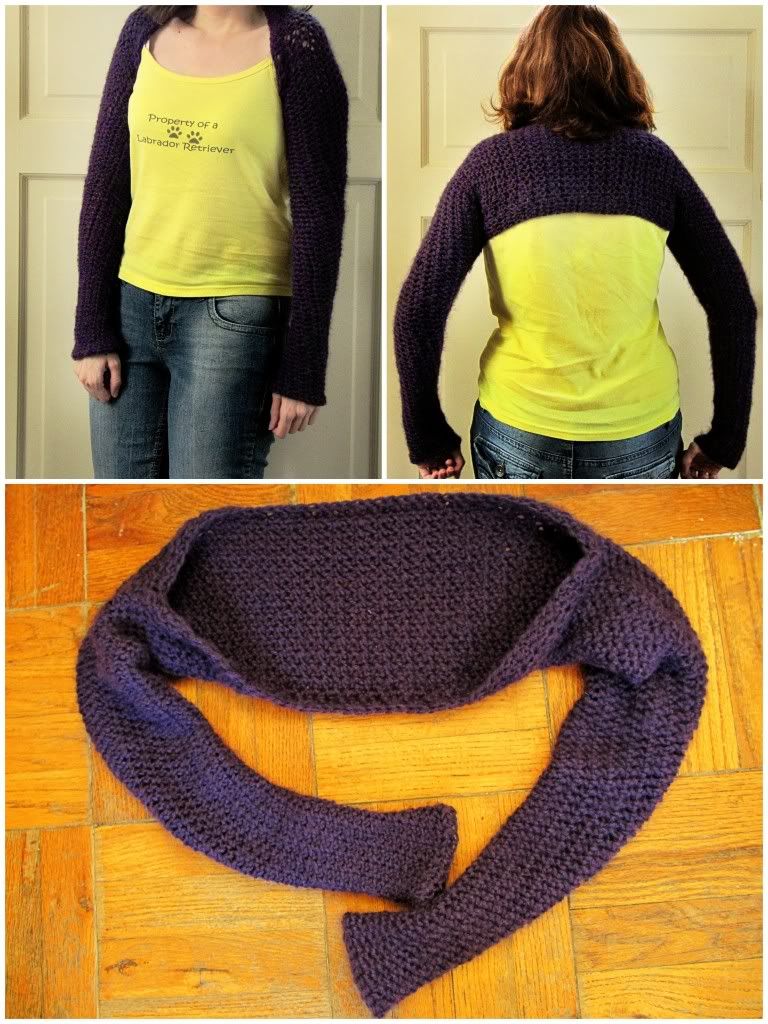 For my autumn shrug I used this
English Gardens Shrug
"pattern," but there was no exact written out pattern, which I actually really liked. The designer wrote out how she went about making hers, as a guide for others. However, since everyone is a little different size, she left it up to the individual maker to customize it to fit yourself best. I suppose, the reason I really like this is that most clothing patterns don't seem to fit me quite right - my arms are too long, my shoulders are too narrow, or something - so I always end up having to customize anyway. This time I didn't feel like my project might not turn out correctly because I needed to "modify" the pattern to fit me. :)
I should also mention that since there is no set pattern - and since the shrug is made in all one piece (it is worked starting at the cuff of one arm, up that arm, across the back and down the other arm) - you must heed the designer's suggestion to take notes. Be diligent in using stitch markers and writing down what you are doing as you do it for the first sleeve, so that things will turn out correctly when you get across to the other sleeve. I'm usually pretty bad about taking notes on a project while working, but luckily I didn't slack on that this time.
My shrug is made from exactly 2 skeins of
Caron Dazzleaire
in Aubergine - this yarn was a gift that I've had in my stash for about a year and hadn't come up with the perfect project for it, until now. I started out with a size J hook (as suggested in the instructions), but about 3/4 of the way up the first arm I decided it might be a little more comfortable if I reworked the arm using a bigger hook to get a bit larger/looser stitching. So, I frogged it and started over with a size M hook. I liked the resulting more flexible feel of the garment made with this larger hook much better.
At the end, I decided not to add the collar included in the instructions, parttly because I was running out of yarn, but also because I just didn't feel it was necessary. Instead I used up the remaining small bit of yarn I had to work a "finishing' half-double crochet round or two around the arm hole/back/neck section edge.
I love how my autumn shrug turned out. It is very soft and warm - perfect for those days when I wear a tank top for the forecasted warm afternoon, but my arms and shoulders need to be protected from the air conditioning, morning, or evening's chill.