I've been busy crocheting holiday gifts over the last several months that I can't blog about yet, but this week I took a quick break from them to make something for me. Every autumn I love to crochet myself a new scarf (and sometimes matching hat and gloves) for the upcoming winter, and this year I knew I wanted to use this neat
Noro Plaid
scarf pattern.
I used a size G hook and various colorways of soft, fingering weight Knit Picks Chroma yarn that I "recycled" from a project I made last year and didn't end up liking/using. I'm not sure of the exact amounts (less than half a skein of each), but for the mesh I used some "Roller Skate" and "Prism", and for the woven chains I used a bit of "Lollipop".
I needed a slightly narrower scarf than this pattern yields, so for the mesh, I used a base chain of 35 to yield 16 spaces across (working my first dc in the 4th chain from the hook). I also wanted a much longer scarf than this pattern makes, so I ended up working the mesh - until I ran out of yarn - to 193 spaces in length. And for the weaving, I just made one extremely long row of chains.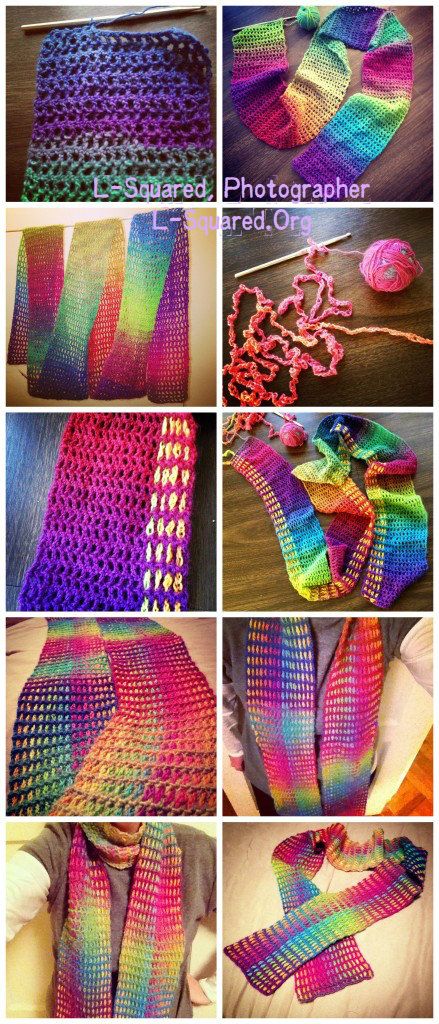 I completed the last couple of rows of weaving tonight, and I absolutely LOVE how this fun, colorful scarf turned out - it just might be one of my most favorite crochet projects, ever! It was easy to make (and easy to feel - a wonderful pattern for blind crocheters), but it looks complex. And the Chroma yarn makes it SO pretty! (I know my photos don't totally do the variety of colors in this scarf justice.) I will definitely be putting this light-weight but very warm scarf to good use, since the weather has already gotten quite chilly where I live.