Well, I've been a very busy crocheter lately. I actually have 5 or 6 crochet projects going right now, but I can't blog about most of them yet, because they will be birthday or holiday gifts for family (and one of my family members does occasionally visit this blog, so no spoilers!).
However, recently I needed a break from a large, monotonous project, so I decided to make some socks from a couple of hanks of
Knit Picks Imagination hand painted sock yarn
in "Gingerbread House" that I picked up recently. I wasn't 100% sure about that colorway but it had intrigued me for awhile. I finally couldn't pass up giving it a try when it was on sale and I had an additional coupon. As it turns out, I don't hate it, but I think the "gingerbread" color looks better on the site photo (with my computer screen anyway) than it does in person.
Anyway, I picked out this
Kemberlee's Crocheted Socks pattern
to try. Although this is not my favorite sock pattern style, it is an easy, quick to work up cuff-to-toe pattern, which yields pretty nice socks. (FYI: I tend to prefer sock patterns that are worked from the toes up - I seem to achieve a much better fit when socks are worked toes up instead of cuff down.) Despite the simplicity of the pattern though, I would still recommend trying them on as you go, and most importantly working both socks at the same time (instead of finishing one whole sock before beginning its mate as this pattern mentions). I recommend this with all "pair" items, to help ensure they're worked exactly the same.
I tend to crochet fairly tightly, so I had to use quite a bit bigger hook (G) than called for to get the correct gauge. Otherwise, the first time around, I worked the pattern as written (keeping in mind that, as noted in this pattern, DC = SC in the U.S.). Unfortunately as I worked, I realized these socks were going to be a bit loose on my feet.
Also, I realized upon beginning my project that the two hanks of yarn I received are noticeably different colored when worked up, even though the labels say they're from the same dye lot. Of course, I understand that it's "hand painted" yarn, but it's still a bit disappointing. The differences are quite obvious to me in the resulting socks - one has lighter colors with longer color changes and the other has slightly darker, much bolder colors with shorter color changes. :-(
Although I couldn't do anything to remedy the yarn color differences, luckily, the pattern was easy to customize for a better fitting pair of socks. So I frogged my first attempt and began again. The second time around I made my socks 6 stitches less around. I also added 3 more rounds to the ankle before working the heel opening - I still made the chain 20 st, and worked 24 around instead of 30. I worked a 48 st heel and added 2 non-decrease repeats at the 11 and 9 stitch rounds to make the heel a bit fuller.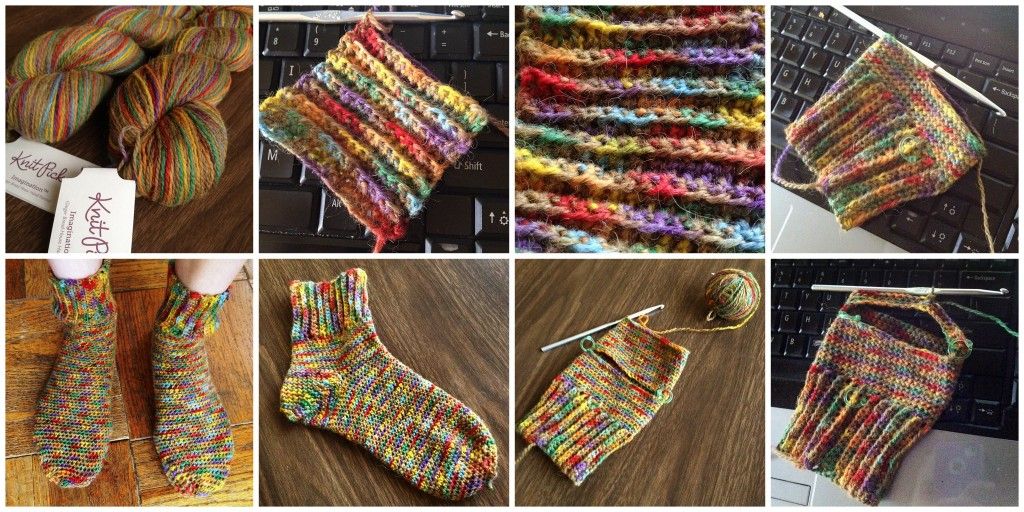 Despite the inconsistency of the yarn color, I still like the socks. I maybe should have made a longer cuff for warmer winter socks, but these will be great for cool autumn days.